Let me tell you a story that happened the other day at school that had me thinking: It's the story of K, a third grader and a complete beginner in English. First of all, although I teach K for the first time this year, he is not unknown to me: I used to teach his brother who was notorious in our school and little K comes laden with this burden. As soon as you meet him, my colleagues say: "Oh he's V's brother" (with that look that says – beware). Fortunately, V may have been very difficult at times but I remember him as the guy who wrote a beautiful poem about the universe and the stars, in English!
The second day I had a class with K I knew he had his own exceptional view of the world when he showed me what he makes with common school things such as pens, pencils and rulers. I was amazed! I asked him to make one for me too and he did; he made me my very own airplane which I have proudly exhibited on the announcement board.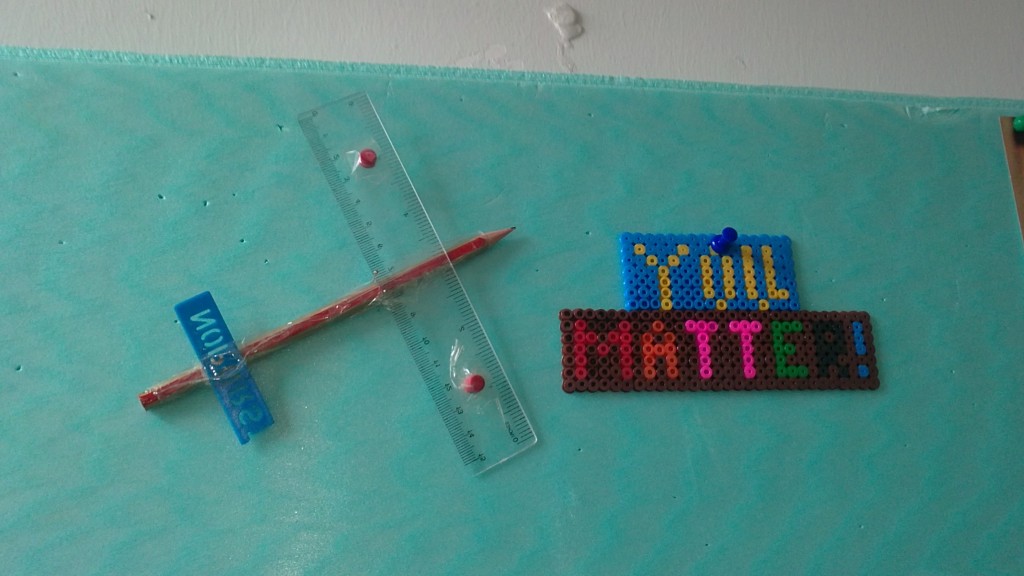 Fast forward to last Thursday when we do a little listening exercise from our book (I am not going to comment here that we got our coursebook for third graders in late December – maybe it was our ministry's attempt to get us into unplugged teaching). The exercise was actually a rap rhyme about family. I had my doubts about this thing because my adult, politically correct brain could see all the faults to it: the lyrics were talking about a fat grandmother and a short sister, the language used was unknown to the children and more difficult than what they are used to and so on and so forth. So I put the CD player on, I tell them that first we are going to listen to it while reading the lyrics from our books and I push the play button. The rhyme starts playing and K is already up and dancing. The whole class stands up from their desks and they don't do what I asked them to do!!! My teacher brain revolts! What a mess! What did I do wrong? How am I going to calm them down again? Quick, quick stop the music. I stop the music and I restore order.  I look at K with my teacher's look which is specially designed to terrorize even seasoned teenagers, but what he tells me throws me off my feet: "Sorry miss, but I CAN'T resist". For a few crucial seconds I resist bursting into laughter. But then I realize what I am doing: what a wet blanket, what a killjoy! I don't resist anymore either, I burst into laughter and I push play again and we start rapping all together (OK, I rap more, they dance and say the words mammy, daddy, grandpa –which was the purpose after all). We start walking around the class stomping our feet to the rhythm and we have great fun! For homework I ask them to practice the rhyme. Next time it's going to be fantastic, it's certain. And we are already making plans about performing the 3rd Grade Rap in one of our upcoming school shows.
Late that night, I reflect about the lesson.  When I started playing the song and saw the chaos that followed my first reaction was to stop the activity. Things were not going as I had planned them, therefore something must be wrong. The only thing going wrong was that I was naïve enough not to have predicted what would happen under those circumstances. The good thing was that I was flexible enough to take advantage of the general enthusiasm and make something out of it. I have a little one-to one with myself: What's the purpose of you there Anna? To teach people how to follow instructions? They learn that everyday, thank you very much. You are there to expose them to language, to instill a love for learning in general, to kindle their creativity and nurture their talents. And if I take all these into consideration it was a successful lesson. If the objective of the lesson was to have 14 9-year-olds still and quiet for 45 minutes then I failed completely!
This was my story about little K who outsmarted his teacher. Sometimes we teachers are too worried about appearances, about curriculum and the nuts and bolts of our profession that we miss the big picture. Fortunately there are many little Ks out there to remind us what we are there for and that one of the keys to happiness is not to be able to resist the music!